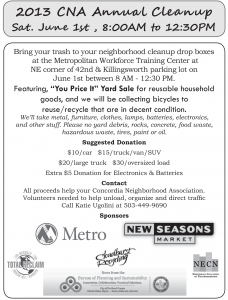 Annual CNA Clean-Up on Saturday, June 1st from 8:00 AM to 12:30 PM at the PCC Workforce Training Center on NE 42nd Ave & Killingsworth!
This is the biggest fundraising event for the Concordia Neighborhood Association (CNA) and a great excuse to get rid of the junk and recyclables that you have been accumulating in your closets and garage! Please see the attached flyer for all the details.
Remember, WE WILL TAKE household waste, metal, furniture, electronics, lamps, cardboard, batteries, mattresses, clothes and other stuff!
WE WON'T TAKE: food waste, yard debris, tires, rocks, concrete, paint, oil, and other hazardous waste!
This year we will be FEATURING, "You Price It" Yard Sale for reusable household goods and we we will be collecting bicycles to reuse/recycle that are in decent condition!
SUGGESTED DONATION: $10 and Up, depending on load of vehicle. Extra $5 for electronics and batteries.
We are always in need of VOLUNTEERS to help unload vehicles and direct traffic. If interested, please email me back at ktugolini@gmail.com or call me at 503-449-9690!