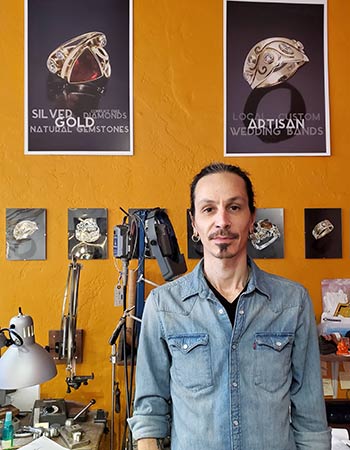 Claudio Starzak was born in the Argentine Patagonia. After school, he and his friends would hang out at a local handicraft store, where he was introduced to metalsmithing, a common profession in Argentina.
With a modest set of tools, he spent years traveling through South and Central America. Claudio visited various cultures, experienced pre-Columbian and sacred sights, sat with healers and shamans, and met master jewelers – all while honing his metalsmithing skills.
His artwork reflects his experiences and stories. Organic, flowing precious metals embrace crystals and natural gems. A master of rings, earrings and pendants, he creates much of his work using an overlay technique, building up designs using layers of metal.
"My mission as an artist remains to inspire love, joy and harmony by bringing more beauty into this world."
Custom and casted wedding rings are a big part of Claudio's business. A good percentage of his jewelry is made from casting originals, but commissions from custom work kept his business afloat through COVID-19 times. It was also during that period that Claudio Starzak Jewelry was robbed, and he lost half of his inventory.
There was an almost 50% drop in jewelry sales during this time because no one was socializing and, therefore, not dressing up with jewelry. Claudio is looking forward to a productive and busy summer season.
Discover more at ClaudioStarzakJewelry.com.
Michel Reeverts, aka Maquette , holds a master of arts degree in art education, serves Alberta Art Works as director and Alberta Street Gallery as a board member. She is also a practicing artist. Contact her at Maquette@AlbertaArtWorks.org