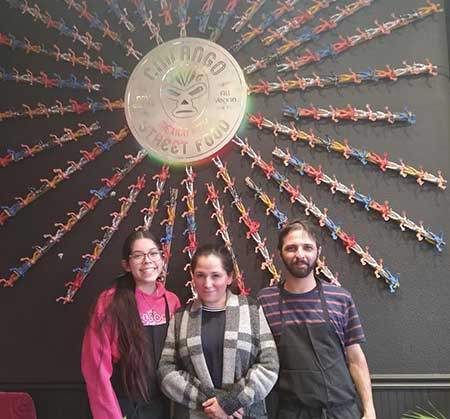 The sentiment "Be the change you want to see in the world," attributed to Mahatma Gandhi, sums up the latest business venture by Chilango PDX owner Vanessa Arochi.
Instead of a "restaurant," Arochi refers to Chilango PDX, 2217 NE Alberta St., as a "project" and wants this project to change the world from the inside out.
Chilango PDX's business model includes paying employees, who she refers to as "collaborators," a living wage of $20 per hour plus tips, cross-training staff on all aspects of the business from cooking to serving, fostering a non-toxic work environment using nonviolent communication, sharing 30% of the business profits with staff, celebrating Latin American culture and creating a space free from stereotypes of Mexico.
The restaurant is "about all of us, building together with each brick," Arochi said.
Savanna Carillo, one of Chilango PDX's collaborators, used the words "amazing," "home" and "supported" to describe working there. "I have the utmost respect for Vanessa," Carillo said.
Arochi, originally from Mexico City, has a background in biochemistry with a focus on food science. Prior to moving to the United States, she had a career in developing new food products for companies in Mexico. After coming to the United States, first to San Francisco and then to Portland, she considered different career options before trying her hand at restaurant pop-ups, a food cart and eventually Chilango PDX.
Arochi brings a deep love of developing complex and delicious flavors and textures in her food creations. She also brings a passion for veganism, which she has been practicing for seven years. "I believe in a world without violence or suffering and animals are a part of that world," she said.
She also noted that the restaurant "demonstrates that you don't need meat to create good food." Carillo says "vegan food gets a bad rap" and encourages people to "give it a try."
"Chilango" is slang for someone who is from Mexico City. Arochi is proud of her Chilango roots and honors her heritage through artwork on the walls, including a mandala of giant metal luchadores, or Mexican wrestlers. She sees this image as a metaphor for "fighting together" to create a better world.
Chilango PDX will host a Cinco de Mayo neighborhood party from 3–7 p.m. Friday, May 5, with live music. CNA Social Committee will meet there prior to party, at 2 p.m.
Nota del editor: El artículo está disponible en español, ConcordiaPDX.org/Chilango.
Jordana Leeb is a longtime Concordia resident who i s passionate about the neighborhood, its people and trees. She lives with her partner and newly adopted special needs dog. You can see her recent film about Concordia at TinyURL.com/DiaryOfAStreet.