By Carrie Wenninger, CNews Media Team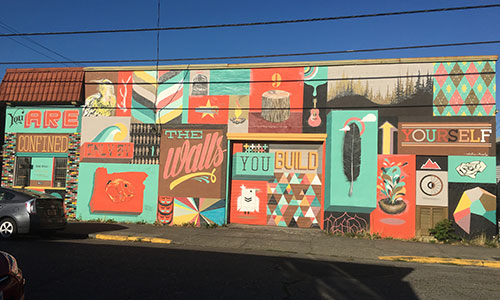 You Are Confined Only By The Walls You Build Yourself
Mural Location: Aladdin Finishers Inc., 2127 N.E. Alberta St.
Artist: Blaine Fontana with special thanks to the Furious Six of Fontana Studios.
Representation/age: A follow-up inspirational message to the 2013 mural on the opposite side of the building, the artwork was painted as a part of Forest for the Trees' annual mural event in 2014. The quote is from author Andrew Murphy. FFTT is a nonprofit project dedicated to the creation of contemporary public art in Portland.
Business owner: Steffen Bettger is the fourth generation proprietor of Aladdin Finishers, established in 1948. The master craftsmen have worked on Liberace's touring piano, restored a cobbler's bench owned by Ben Franklin, and are presently restoring 130 chairs and Victorian era sofas belonging to the Columbia Queen steamboat.
Fun Fact: Now in its fourth year, Forest for the Trees' annual mural painting event brings together artists from all over the world, and is putting Portland on the map as a city known for its street art!