She's a professional cyclist for DNA Pro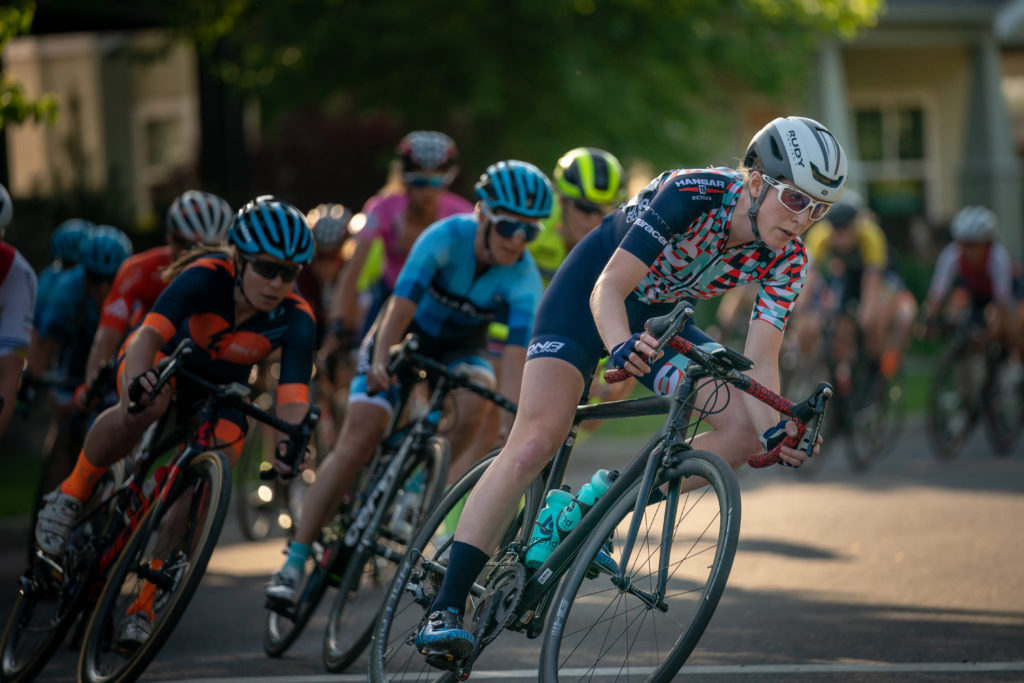 By Dan Werle | CNA Media Team
At the end of May, Concordia said goodbye to one of its fastest pedalers on two wheels.
Brenna Wrye-Simpson is a professional road cyclist for DNA Pro Cycling, team manager for Team S&M CX women's professional cyclocross team, and a full-time employee of Sellwood Cycle Repair (SCR). She moved out of the neighborhood, where she lived and trained since March, 2016.
Brenna grew up in Corvallis and moved to Portland to attend Reed College, where she majored in liberal arts with a music focus. She became interested in cycling following her freshman year, when a. roommate loaned her a road bike. With limited funds but heightened curiosity, she purchased a used frame, cobbled together parts needed to complete a bike and built one herself.
As her interest in cycling grew, she began spending more time in her nearby bike shop, at that time the Woodstock Bike Gallery. Brenna took a job at the shop, where she remained for five years before working at Chris King Components, a northwest Portland bike component manufacturer. In 2014, she landed her current job at SCR.
Brenna's position at SCR helped her improve her skills as a mechanic and gain more knowledge about various disciplines of bicycle racing. Those include road cycling, mountain biking, track racing and cyclocross. That's a popular off-road sport held on a variety of surfaces that requires participants to dismount their steeds occasionally and run while carrying their bikes.
Three years ago, she became the manager and mechanic for Team S&M, shorthand for the neighborhoods Sellwood & Moreland, which are close to the shop. Shop owner Erik Tonkin started the women's professional CX Team. CX is a popular abbreviation for cyclocross. He continues to co-direct the team with Brenna.
The team has traveled across the United States and Europe. In December, at the USA Cycling Cyclocross National Championships, Team S&M rider Clara Honsinger won the elite women's championship jersey – the first time it had changed hands in 15 years.
Brenna is often easy to identify in the "pits," a designated section of a cyclocross course where riders exchange dirty or broken bikes during races. She is frequently the lone woman cleaning, repairing and swapping bikes for supported riders.
Brenna has been a professional road racer for three seasons. She specializes in criterium racing, a team-based road cycling event typically held for about an hour on short, closed courses. The high-intensity events allow her to focus her training, continue her work at the shop and manage the team.
Going forward, she hopes to be a more accessible teacher for athletes interested in sports.
"Coaching and cycling have changed over the last 20 years," she said. "I feel strongly about enacting ways of helping sports be accessible to females and minorities."
Her advice for those interested in learning to work on bicycles?
"Find a family member to explore a small mechanical project with. There are a number of texts available on the fundamentals of bicycle repair." She added, "It gets down to finding what you like to ride. Once you do, you can learn the nuances of the bikes."
Brenna said she'll miss the wind whipping through the tall Concordia trees and the close proximity to businesses like Extracto and Wilder.
However, keen-eyed Concordians may still catch a glimpse of her rolling through the neighborhood visiting friends or preparing for her next race.
Dan Werle lives in Concordia with his wife, Anna, and their dogs.