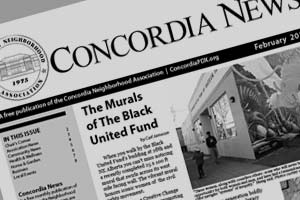 The Concordia News newspaper is a free, self-supporting, monthly publication of the Concordia Neighborhood Association. We welcome letters to the editor on neighborhood topics. Please keep your letter to the point, and include your address and phone number to verify authenticity.
If you're interested in writing articles, please see this post.
Previous Issues of the Concordia News Can be Downloaded HERE.
Contact the Concordia News
Send letters via email: CnewsEditor [at] concordiapdx.org or by mail to P.O. Box 11194, Portland, OR 97211
To advertise, please contact: Concordia News Business Manager CnewsBusiness [at ] concordiapdx.org
Learn about advertising here.
Concordia Neighborhood Association Website
Our website is maintained in coordination with the Concordia News. The goal of the site is to make sure that interactive, local government and community information is available to a regional, national and international digital audience.
If you have any questions or concerns about the website, please let us know.