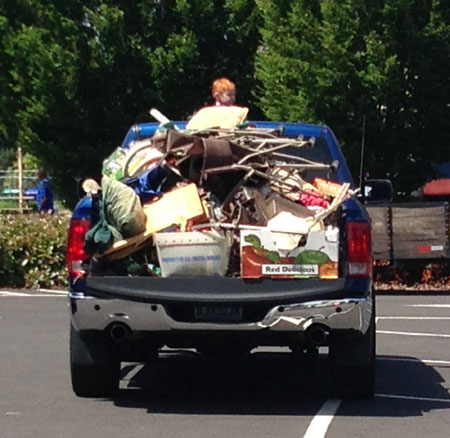 Saturday, May 20 8 a.m. – 12:30 p.m.
PCC Workforce Training Center at NE 42nd & Killingsworth
Spring cleaning comes to Concordia, and CNA will dump, recycle and/or find new homes for your household items.
CNA Spring Clean Up needs (lots of) volunteers
Here's your chance to help your neighbors, your neighborhood association and your environment. Volunteer to help out at the May 20 CNA Spring Clean Up. You can help greet your neighbors, staff the drop off tables, sell items at the "You Price It" Yard Sale, sort donations and more. Email Social@ConcordiaPDX.org for details.
ACCEPTED MATERIALS

Household waste
Metal
Styrofoam (no peanuts)
Plastics (see story on this page)
Furniture
Electronics
Lamps
Batteries
Mattresses
Clothes
Bicycles
Other household items

PROHIBITED MATERIALS

Hazardous waste
Construction, demolition, roofing & remodeling debris
Kitchen garbage
Residential yard debris
Commercial landscaping materials
Waste & recyclables collected curbside
Light bulbs
Refrigerators & freezers
Large appliances/white goods
Tires, rocks & concrete
Paint & oil
SUGGESTED DONATIONS PER LOADAll proceeds support CNA's mission to organize human and physical resources, build community and enrich livability here.
Car: $10
Truck, van, SUV: $15
Large truck: $20
Oversized load: $30
Electronics & batteries: $5
SPECIAL FEATURES IN 2017
"You Price It" Yard Sale: See something you like among the reusable household goods, say what it's worth to you and it's yours.
Professional tool & knife sharpening
Don't use dull blades for your home spring clean up
Bring your kitchen and garden tools to the May 20 CNA Spring Clean Up for professional sharpening. Between 8 a.m. and 1 p.m., 1Sharptool Edge Service will donate a percentage of the proceeds from sharpening:
Knives
Scissors
Machetes
Pruners
Loppers
Axes
Pocket knives
Garden shears
Shovels
Hoes
Chisels
Rotary mowers
Services are first come first served. Prices start at $6.25 for garden tools and $7.50 for kitchen knives. 1Sharptool Edge Service accepts cash, checks and credit cards. For details, contact 1Sharptool Edge Service at 360.606.7062 or visit 1SharpTool.com.
Thanks to the CNA Spring Clean Up's Generous Sponsors