2018 Fernhill Concert Series needs you!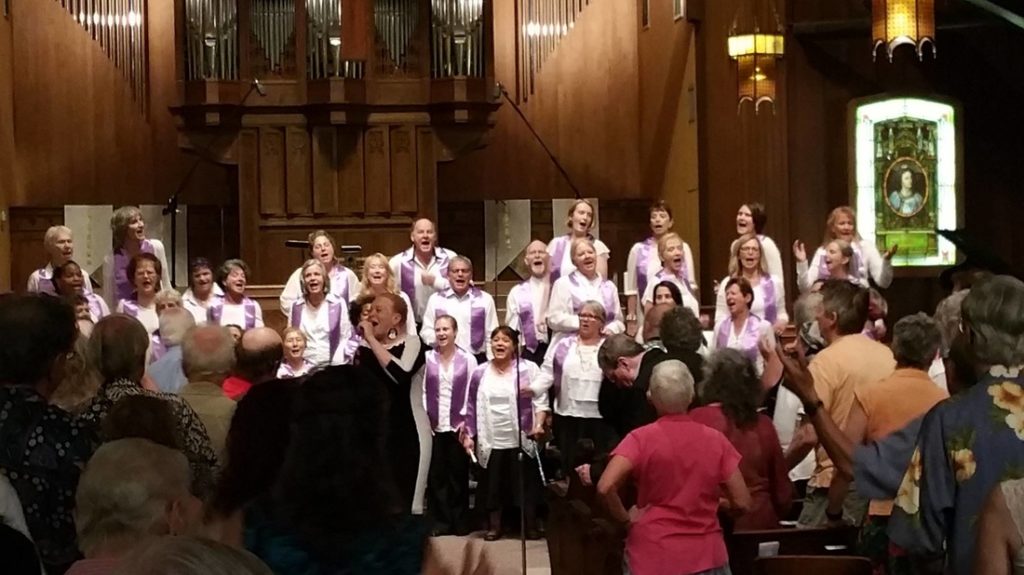 Photo courtesy of Portland Interfaith Gospel Choir
There's no better way to spend a warm and breezy summer evening than gathering with friends and neighbors in Fernhill Park for picnic dinners, music, dancing and family fun.
This is year 14 for the Fernhill Concert Series, and CNA expects another smashing success with the finest musical talents Portland has to offer – admission free.
2018 SCHEDULE
This year's crowd-pleasing concerts in Fernhill Park are:
July 6:

Portland Interfaith Gospel Choir (traditional & contemporary black gospel music)

July 13:

Sonny Hess & Lady Kat (modern blues & soulful rhythm and blues)

July 20:

Trujillo (Chicano/Mexican American rock 'n' roll)

July 27:

The Slants (Chinatown dance rock)

Aug. 3:

National Night Out Celebration: concert by Eric John Kaiser, The Amazing French Troubadour, followed by Wes Anderson's animated movie "Isle of Dogs"
WE NEED YOUR HELP
It doesn't matter if you are a business owner, a family or a lover of music, because every donation – large and small – will help produce another memorable concert season in Fernhill Park. Even $5 and $10 donations help.
Individual/family donors
Click the PayPal button—any donation amount will help!
Business/organization sponsors
CNA strives to create a benefits package that meets your philanthropic and marketing needs. Each Fernhill Concert Series sponsor receives the chance to give your neighborhood a tax-deductible contribution that stays close to home and recognition for your business/organization name.
The more you give, the more name recognition your business or organization receives. To learn those benefits based on sponsorship level, click here.
To pledge your organization's sponsorship, click here.
1. Complete the top portions of the form with information about your organization. When you reach the Pledge Sponsorship Level portion of the form, select your sponsorship level from the first pull-down menu.
Sponsorship levels include:
$300+ Good Neighbor

$1,000+ Contributing Sponsor

$2,500+ Series Sponsor

$5,000+ Supporting Sponsor

$10,000+ Lead Sponsor

$25,000+ Premier Sponsor

$40,000+ Presenting Sponsor

$100,000+ Title Sponsor
2. Then – and this is very important – pull down the Sponsorship Level Designation menu down to Fernhill Park.
Sponsorship commitments are needed ASAP, but payment is not due until June 1. If you have any questions, contact Kawana Bullock Clayton, event producer, K.BullockClayton@portlandoregon.gov or 503.823.5059.
A big Thank You to the businesses and organizations that have already committed to sponsoring the 2018 Fernhill Concerts:
CNA
Vacasa
Concordia University
McMenamins Kennedy School
Frock Boutique
Gazelle Natural Fibre Clothing
Sojourn Church
St Michael's Lutheran Church
Please Support the Folks who Support your Neighborhood!